Archive for March, 2012
So I write this as a longtime iPhone user, who went to the Apple Store in Pasadena the day after it was released, and bought the original iPhone as a wedding present for my fiancé. I then spent the next three years borrowing it, since I was so glued to my desk, I didn't see a need for owning a cell phone myself.
(Once the iPhone 4 came out, I couldn't resist any longer, bought one immediately, and upgraded to the 4S when it came out, mostly for the improved camera. Love it.)
Android phones never managed to capture my interest. They just looked and felt like bad photocopies of the iPhone, and didn't offer anything new I was interested in, like the ability to install a custom theme that looked even uglier than the default, or download torrents on my phone, or play a Matrix animation in the background, or remove my battery, or spend time killing random processes, or over-clock my CPU, or any other beardy sort of thing. (Seriously, if I could remove my battery, I would misplace it in less than five minutes.)
When Windows Phone 7 was released, I was intrigued by the design and typography, but I didn't get to play with it until my brother bought one and raved about it. My initial impression (this was pre-Mango) was lukewarm, and I was obsessed with the iPhone at that point anyway, so I just went all fanboy on his ass and mostly ignored it.
Fast-forward to this January, I ordered a second hand Samsung device to help with development, and promptly fell in love with it. Why? Let me count the ways: First of all, it was new and different. As much as Android felt like (poorly) recycled ideas and bad new ones, Windows Phone felt original, well designed, and fun to use. The performance was great, really smooth in a way iOS is and Android isn't even in ICS. The "pivot" and "panorama" UI concepts were fresh and a great way of making good use of a small screen in portrait mode. The typography was clean and brazen. The integration of Facebook and Twitter made them feel like first class citizens, not an afterthought. The live tiles on the home screen were a great way to make the phone feel alive.
Just as important, though, was how I felt going back to my iPhone after a week of using the Windows Phone almost exclusively: obviously the iPhone has a far better camera and much better photo software, and for that reason alone I wouldn't abandon it. But the iPhone felt staid, for lack of a better word. I wanted to be able to pin a few email folders to my home screen and watch them update live. I wanted to see all my social updates in a more integrated way. I missed being able to go to a contact (which I could also pin to my home screen), and easily see the conversations (Facebook, or SMS) I was having with them, and recent photos they'd uploaded.
My conclusion is a bit bifurcated: If you're looking for a mobile device that's not iOS, you should really check out Windows Phone, especially on the sexy new Nokia devices. And Apple, please integrate social services more closely, and do something cool with the home and lock screens, which are getting boring after 5 years.
Anyway, that was a really long tangent, which took almost as long to write as Plex for Windows Phone, which brings me to my next point. Platforms face two ways, towards the users, and towards the developers. The iOS development environment is quite good, with the weakest link being Objective-C, which has a steep learning curve and feels like it stepped out of the 80s with a cocaine hangover.
Android, oh, Android, I don't mean to pick on you once again, but your edit-build-deploy cycle is long enough to make a grown man cry, and then stab himself in the eyeballs, and then cry some more. Java is fine, but the surrounding environment and piss-poor emulator makes it much harder to develop for than it should be.
So how is the Windows Phone development environment? It's scary good. C# is a great language, .NET is a solid framework, XAML is a really nice way to design user interfaces, and the edit-build-deploy cycle is fast. It still has a bit of growing up to do, but the proof, as they say, is in the pudding: we were able to write the app from start to finish in two months, between two engineers working part time, which is almost an order of magnitude faster than it took for the iOS and Android app. This sounds impossible, but trust me, it's incredibly productive. (And as the last one out of the gate, it *needs* to be productive if the platform is to gain the apps it needs.)
My last thought on Windows Phone is that it's got all the ingredients it needs to be successful: It's a fun, useful, well-designed platform, with sexy (Nokia) hardware, and it's as good for developers as it is for users. It deserves much more marketshare than it has, and Microsoft seems to be making most of the right moves (about time). We'll see how it all works out.
All that to say: Hey, Plex for Windows Phone 7 is now available in the App Store! (Well, it should be shortly, it says it's live but apparently it takes a little while to actually show up.) Make sure you're running the new 0.9.6 beta of the Plex Media Server, which includes Silverlight Smooth Streaming support.
We hope you love it.
(OK, so I just *know* some smart alec is going to make a comment about "all twelve Windows Phone 7 users" really appreciating this release, and I should warn you: we know who you are, and any such commenter will find that Plex will start overlaying black bars over any videos with nudity. In the right places. No, really. It's patent pending and we call it the deboobifier.)
71 comments
So what exactly is DLNA, and why are we so excited to be releasing a new version of the Plex Media Server which supports it? DLNA stands for Digital Living Network Alliance, which says more about the fact that it's a fancy standard than what it actually is, and really, everything you ever needed to know about standards is expressed in the following XKCD comic: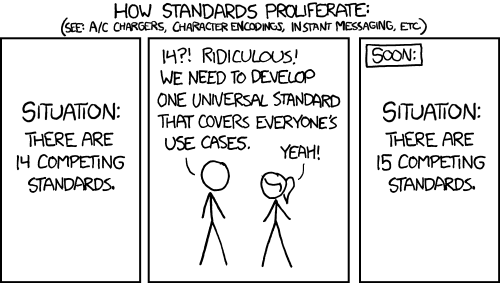 All joking aside, DLNA encompasses some mechanisms around sharing media between devices. The best thing about DLNA is that there are literally hundreds of millions of devices which can play media from DLNA servers. The *worst* thing about DLNA is that almost every DLNA player has its own unique interpretation of the specification, and support for a very different set of codecs and formats. The other really bad thing about DLNA is that it has extremely poor support for metadata, unlike Plex, which supports gobs of data (actors! genres! directors! country! tags! collections! and more!) for every single piece of media.
As most of you are aware, one of the components of the Plex Media Server is a really really awesome transcoder (no, really, it's amazing), which we put to good use serving up content to lots of different devices already, and which we've enhanced substantially in this new release, by adding DLNA-friendly features, as well as support for Silverlight Smooth Streaming (which of course is used by the new Windows Phone 7 client).
So in a most excellent ménage à trois, we've united our sexy transcoder with Plex's rich metadata system and Plutinosoft's fabulous DLNA SDK. The result (besides a lingering scent of cologne and flowers) is the world's best DLNA server. No, really. I'm not prone to hyperbole. This DLNA server can do things that no other DLNA server on the planet can do. And the coolest part is that with this new release, all the content served up by your Plex Media Server is now accessible by an insane amount of new devices, including ones that may already be in your homes (your LG washing machine doesn't have DLNA? Send it back!).
Let's look at a few of my favorite features of the Plex DLNA server:
myPlex queue support: you can use the bookmarklet to queue web video, and play them from your DLNA device. Talk about breathing new life into your PS3, I love watching queued videos on that device.
myPlex shared content support: you can play shared media from your friends. (They need to be running this new version of the media server.) This is, like, mind-boggling. DLNA isn't supposed to work across the Internet, but with our new server, I get all Obama-like and yell "Yes You Can!".
Channels: We support video, music, and photo channels on DLNA clients which support it.
Direct Play and Direct Streaming: whenever we can, we just serve up the file, since lots of DLNA clients support many different formats/codecs. Additionally, we can remux files, which allows playing HD MKV files on a PS3 at full video quality, for example.
Metadata: Obviously DLNA has limitations, but we make the best of the metadata we have available and format it in a way that looks great on a DLNA client.
So now a few caveats. First and foremost, this is an initial release of the server, labeled beta, and there will be bugs. The good news is that, as always, the server is backwards/forwards compatible, so you can move back and forth as you wish between beta and stable.
Secondly, there are like seven bazillion DLNA devices. At least. We've focused on support for two of them primarily (the PS3, and the Xbox360) and one other (the WD TV Live). The good news is that we have a very simple yet powerful XML-based configuration (see here for the current one) system which can be used to describe new DLNA clients' capabilities. We can push out new profiles to everyone automatically, and you can extend it with your own profiles. (For those who care, just make your own dlnaclientprofiles.xml file in the Plex Media Server application support folder. And please, please, share your new profiles with us so that everyone can benefit!)
Last of all, subtitles are not working with DLNA in this release. We will absolutely get them working, and better than you might think possible, just not in this first release. Sorry.
The new links to this BETA release of the Plex Media Server are available in the usual place (look for the beta release with DLNA support). Linux builds will be up shortly, we're just doing a final round of testing. Enjoy!
I'll leave you with this photo of Barkley, who has become a bipedal aquatic canine. Seriously, he walks around the lagoon on his two hind paws, looking for fish or something else to pounce on.
131 comments
You're probably already familiar with the Roku Media Streamers, but if not, you'll want to check them out! They have a line of lovely little devices, starting at just fifty bucks, capable of 720p on the low end, and 1080p and Angry Birds on the high end. They also have a great SDK which allows third parties to write Roku Channels, and we're extremely happy to let you know that as of today, the Plex Roku Channel is now officially available in the Roku Channel Store.
We've had a private channel available for a few months, but we've really been working hard to make it even more awesome. In a great example of why I love the our community, a Plex team led by Schuyler collaborated with Alan, Matt, L0stS0ul and others from the forums to create this new version.
If you haven't seen it for a while, this is what's new:
Full myPlex support: Sign into your myPlex account, and you get instant access to your media queue, shared content, and your own servers that you've published through myPlex. So easy! So awesome!
Audio and Photo support: We now support browsing and playing the full range of media that the Plex Media Server supports, both from your library and channels.
Revamped UI: as you can see below, we're now using grids on a lot of screens now, and there's a nice Plex-like theme throughout.
Direct Play: For media formats that are supported by the Roku, we'll try to play it without transcoding.
Tons of other stuff, including many bug-fixes.
Have a look through the screenshots below, and consider getting a Roku device, either for your primary Plex client, or for that guest room (lucky guests!), kid's room (lucky kids!) or doghouse (Barkley has the Roku2 XS).
65 comments